Top Ten Tuesday is a weekly meme hosted by The Broke and the Bookish. This week we are talking about top ten authors I can't believe I've met.
Meg Cabot
I was introduced to Meg Cabot when I was around 10-years-old my mom bought me the book Haunted. I didn't realize until I was in high school that it was actually the 5th book in the series.  Since that time my collection has grown and grown and during the event I was so embarrassed because I had so many books that I brought three friends so that I would be able to get them all signed. When I told Meg that my favorite series was The Mediator series she told me she was working on another one and my mind exploded because on her website she specifically stated that she was never going to write another one. I am so glad she did!
Richelle Mead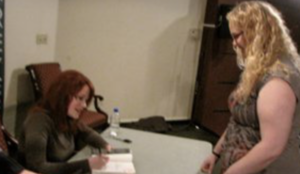 My friends and I were so obsessed with Vampire Academy so when we heard Richelle Mead was going to be 3.5 hours from us we knew we had to go. The day before we were to make the trip a snowstorm blew through and then iced over and my friend and I had to help people push our car out of the ditch at one point. We made it to the event on time and got to sit in the front row and had a blast getting to see an author we all loved so much.
Gayle Forman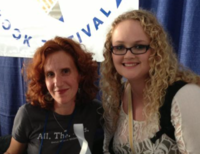 The author of If I Stay and Where She Went happened to be at Yallfest one of the years that I was there and I was beyond excited. Where She Went is one of my favorite books and I could not wait to tell her in person. She seems really surprised when I told her I loved Adam's story so much. Apparently more people favor If I Stay.
Libba Bray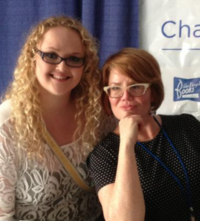 She was another author I was able to meet at Yallfest that year. I love her Great and Terrible Beauty series. The ending of the third book, A Sweet Far Thing is one of my favorite young adult conclusions. I did not realize that she had told me to make a face when we were taking the pic, because it was so loud, but I realized she said then when she took the pic with my sister because she repeated it and I was like…..oh.
Carrie Ryan
I was able to meet Carrie Ryan the first year that I went to Yallfest which was also the first year it existed. I was a brand new baby blogger and my website had only been up for about a month or so when I went. It was also my first time ever going to a book festival and being around so many authors. I love the Forest of Hands and Teeth series and the conclusion, Dark and Hollow Places, is such an amazing book.
Victoria Schwab
The first time I met Victoria Schwab was just a few days after The Near Witch was released. It has been incredible to watch her find the successes that she has had. I've been so lucky to attend several of her book launches and signings and see her at Yallfest both times I went. The cool thing that I've always thought was so sweet was that she has such a good memory and remembered my name. When I showed up to The Archived launch she greeted me by name and asked how my drive was because she knew I lived 2.5 hours away and threw some mountains. Not only was I blown away that she had remembered, but I just feel that really speaks to the kind of person she is.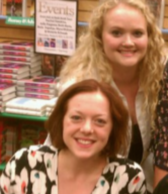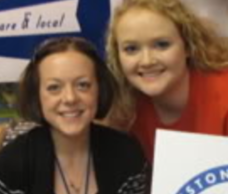 Courtney Stevens
I met Courtney during my first SCBWI conference, back when she had really long braids. While interning at the small press I organized a panel event in Nashville and Courtney agreed to take part in it even though Faking Normal hadn't released yet. A few days before the event her publisher sent her a physical copy of the book so she was able to read us an excerpt. I am so happy that one of the first events she was able to take part in as an author was mine because I love her books so much. The Lies About Truth blew me away when I read it and remains one of my favorite YA's.
Sharon Cameron
When I talk about how immensely proud I am of Sharon Cameron readers of this blog should not be stunned. What stuns me the most about this incredible authors is that she has brought me along for so much of your journey. The first time I met Sharon I was deep in the depth of fangirling over Ruta Sepetys. Ruta wanted to introduce me to her friend and Sharon kept trying to tell me the name of her debut coming out in the fall of the next year and I just could not get it right. (It's The Dark Unwinding btw) Rook will always be my favorite of hers because it's got the best acknowledgement page lol!
 Ruta Sepetys
The first time that I saw Ruta was in August 2011. She was part of a panel event and the only historical author there. She is also the only author I did not speak to at that event. About a month later I borrowed Between Shades of Gray from a friend and could not put it down once I started reading it. I had never emailed an author before, but the second I finished BSG (roughly 3am) I went onto her website and sent her this horribly gushing email that was probably riddled with spelling errors because I had no glasses on and the keyboard on the phone I was using was tiny. I told her about how much BSH had impacted me and how I had never stayed up that late for a book before. I was shocked when I received the most gracious reply from Ruta. This was the first time an author had ever emailed me! (This was pre-blog era) Thus began my friendship with such an amazing author. Every single time I see Ruta she is amazingly nice and genuinely cares about everyone. She has had international success and recognition and I can't believe I am lucky enough to know her!
Margaret Petterson Haddix
Every one of us has that author we would faint when we meet. Most of us will never get to meet that author, but I was lucky enough to have this embarrassment happen. Okay, fine, I didn't actually faint, but she thought I was going to. I was still interning for Sharon Cameron during Southern Festival of Books one year, so I trailed around after her all day. Since I live so far away I missed her first panel and wait in the hall for her to come out. Because I didn't really plan on going to panels on my own that year I did not bother to check who was actually going to be there. I'm leaning against the wall as Sharon comes out of the room and she walks over with another woman and is looking around for a third. She finally flags down the third person and she begins to introduce me to her friends. J.J. Howard who wrote That Time I Joined the Circus was one of them. I had taken part in her blog tour and was excited that I got to meet her in real life. Then I turn to the last woman and Sharon says "Hannah, this is Margaret" and I was already shaking her hand and saying hello when Sharon went "Petterson Haddix" and I FROZE!!!!! I couldn't move, I couldn't speak, apparently according to the three of them I went completely white and my face fell slack and they literally thought I was about to faint and kept asking me if I was okay.
I had absolutely no idea that Margaret was going to be there that weekend, I didn't even bring any of her books and I was so upset. It was the laugh of the weekend how I freaked out so bad. Then I was able to have dinner with Sharon, J.J., Margaret, and my friend Shalena. I was able to sit at a table in an empty Italian restaurant in Nashville (seriously we were the only ones there and we almost left because we thought they were closed). Margaret asked me about my own writing, but I was so shy and still in shock that I just couldn't talk about it. I really wish that I could go back in time and talk to her like I would have with Sharon or any other one of my friends. It was an amazing moment in my life and I will never forget. Luckily for me the next day while everyone else was seeing Rick Riordan, Shalena and I went over and talked with Margaret for about an hour and it made up for everything from the night before.
Who is your favorite dream author to meet? Or is there anyone you have met that has left you speechless?