I had the privilege of attending the launch party for The Lies About Truth at Parnassus Books in Nashville last night. This is Courtney C. Stevens second novel. Her first novel was Faking Normal, which I also reviewed. Here it the description for her newest novel: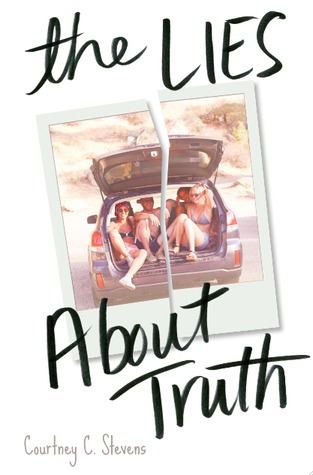 From Goodreads
Sadie Kingston, is a girl living in the aftermath. A year after surviving a car accident that killed her friend Trent and left her body and face scarred, she can't move forward. The only person who seems to understand her is Trent's brother, Max.

As Sadie begins to fall for Max, she's unsure if she is truly healed enough to be with him — even if Max is able to look at her scars and not shy away. But when the truth about the accident and subsequent events comes to light, Sadie has to decide if she can embrace the future or if she'll always be trapped in the past.
Prior to the event I picked up my friend Marla (we actually met while I was organizing my first ever blog tour for Ruta Sepetys) and headed over to Nashville to have dessert with Sharon Cameron and Ruta Sepetys. It's always a wonderful time when you get to hang out with people in the writing community, especially the amazing community that Nashville has. We were all having such a good time we didn't realize time had gotten away from us and by the when we realized what time it was the event had already started. We all rushed over to Parnassus Books and was met with this sight:

There are a few things that I love about Courtney and each of them came through in her speech. 1) She is so thankful for her writing community and credits them in helping to get her where she is. 2) She is so humble. 3) She constantly encourages other people and really wants every single person to find their voice.
So basically I want her as my best friend.
One of the really cool things about this event was that Marla and I knew so many people there! It really truly felt like a family reunion. Everyone is so busy and some of us (like me) live a few hours away and can't make it out to every event. I am so happy that I was able to make it to this launch and be able to support Courtney and get to see everyone.
I so look forward to reading this book and letting you all know what I think about it!
---