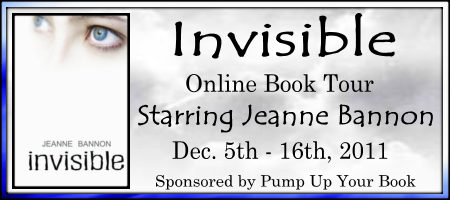 Review "Invisible"
Invisible by Jeanne Bannon is both a heart-breaking and heart-warming coming of age tale. Seventeen-year-old Lola is an awkwardly tall "big girl" who struggled with self-esteem. Born into a family she has never felt she belongs in Lola takes refuge in the company of her grandmother. When forced into a situation she has been dreading all summer, donning a bathing suit in public, Lola wishes she could become invisible, and to her shock she does just that.
Invisible is an amazing story that is truly relatable to people of all ages dealing with self-esteem issues. This book showcase's Lola's relationships as they bloom, grow, and change throughout the book.
I personally really loved watching Lola grow every page from start to finish. I loved how this book uses the same basic techniques that all YA books do but it changes them at the same time. The main character is not the typical physically beautiful girl. She is beautiful in her own way and she lets that shine as the story continues.
The ending of the story was really great and tied everything together really well, and got the message across. You don't have to be perfect to be beautiful, and that all girls should love themselves even when society tries to put them down.
Here are some questions that Jeanne Bannon was really awesome and agreed to answer for me.
1) Lola's relationship with her family is rocky but she has a great friendship with her grandmother. Was the relationship between Lola and her grandmother influenced by a someone outside of your immediate family you were really close to?
The relationship between Lola and her grandmother was influenced by the relationship I had with my own grandmother. One difference is that my grandmother lived with us. And my parents are certainly not like Lola's. But my grandmother who I called "Mama" was a hugely important part of my life. We lost her nearly six years ago and there isn't day that goes by that I don't miss her.
2) I can relate a lot to Lola, and I think tons of other girls can relate to her too. I LOVED how she evolved through the story and the message that it sends to girls who aren't considered "perfect". What inspired you to write this book?
I didn't want to write the typical YA protagonist. I wanted a character who was real, a little plump and not beautiful. I wanted a girl who was very relatable. I don't buy into the myth that YA has to be filled with gorgeous model-thin girls and hunky guys for readers to be pulled into the story. Instead, I think a story is much more enjoyable when the reader can sympathize with the protagonist and understand what he or she is going through. That's also why I chose to write the novel in first person present. I wanted to take readers directly into Lola's mind.
3) Is there anything in "Invisible" that you took from your personal life?
When I was in grade 7 and 8 I was bullied, not for the same reasons as Lola but the experience made a huge impact on my life and I struggled for years with self-esteem issues. If there's one thing I wanted to accomplish with Invisible it was to make a difference in the life of a teen or child who's bullied. When you're being bullied, it feels like it will never stop. I want young people to realize that they don't have to be defined by the experience and that it doesn't last forever, that they will get through it.
4) Do you believe that if what happened to Lola's grandmother hadn't happened that she would have been able to build that relationship with her parents and sister?
I do believe that the tragedy in Lola's life brought her closer to her parents and sister, in particular to her mother. Lola began to realize that there was much more of her grandmother in her own mother than she realized and allowed herself to open her heart to her mom in a way she never had before.
About Jeanne Bannon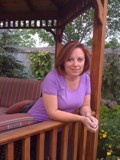 Jeanne Bannon has worked in the publishing industry for over twenty years. She began her career as a freelance journalist, then worked as an in-house editor for LexisNexis Canada. Jeanne currently works as a freelance editor and writer.
Jeanne's had several short stories published and won first place in the Writes of Caledon Short Story Contest. Her novels, The Barely Boy and Dark Angel were finalists in the 2010 and 2011 Strongest Start Contests. Another of her short stories "Thom's Journey" is part of an Anthology entitled A Visitor to Sandahl and is available at Amazon.com.
Invisible, Jeanne's debut novel, is about a teenage girl who isn't happy with herself and wishes she could disappear. And one day she does. Invisible is available on Amazon, Smashwords, and the Solstice Publishing website.
When not reading or writing, Jeanne enjoy being with her daughters, Nina and Sara and her husband, David. She's also the proud mother of two fur babies, a sweet Miniature Schnauzer named Emily and Spencer, a rambunctious tabby, who can be a very bad boy.
To learn more about Jeanne, visit her at her website www.jeannebannon.com
You can also find her on Facebook and Twitter
For the duration of this blog tour (December 5th-16th) Jeanne Bannon's Invisible will be only $0.99 at Amazon.com and Smashwords. So be sure to go check it out!
I hope you all enjoy this book as much as I did!
Hannah
@Hannah_TBV