It's about that time again!!!! Can't Wait Wednesday! This week I can't wait for The Belles by Dhonielle Clayton. I don't remember how I found out about this book. I think someone I follow on Twitter had retweeted something from this author and then I replied, but while I was on her page I saw the most amazing cover and immediately I wanted to know what that books was.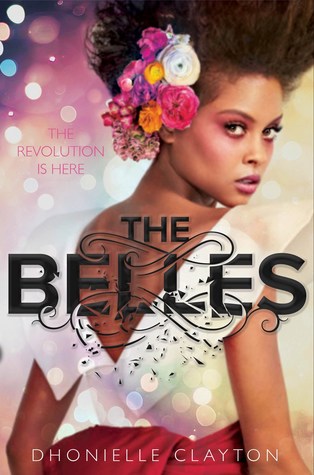 Okay, okay! I know this is not a cover reveal, but you guys!!!!!! This cover. Okay first of all this model is gorgeous and she's got the most amazing way to convey a million different things. First she looks amazingly fierce and like I would not want to go up against her! She's got this look that just says alright are you going to try and challenge me? Let's go! But at the same time I feel like her gaze could also be a warning, and based on the exciting description below I feel like it definitely could be that as well. Another thing I love is the coloring and effects with all the different light bubbles and different colored bubbles. I feel like it just adds a soft glamour feel that fits the description of the book so well.
Camellia Beauregard is a Belle. In the opulent world of Orléans, Belles are revered, for they control Beauty, and Beauty is a commodity coveted above all else. In Orléans, the people are born gray, they are born damned, and only with the help of a Belle and her talents can they transform and be made beautiful.

But it's not enough for Camellia to be just a Belle. She wants to be the favorite—the Belle chosen by the Queen of Orléans to live in the royal palace, to tend to the royal family and their court, to be recognized as the most talented Belle in the land. But once Camellia and her Belle sisters arrive at court, it becomes clear that being the favorite is not everything she always dreamed it would be. Behind the gilded palace walls live dark secrets, and Camellia soon learns that the very essence of her existence is a lie—that her powers are far greater, and could be more dangerous, than she ever imagined. And when the queen asks Camellia to risk her own life and help the ailing princess by using Belle powers in unintended ways, Camellia now faces an impossible decision.

With the future of Orléans and its people at stake, Camellia must decide—save herself and her sisters and the way of the Belles—or resuscitate the princess, risk her own life, and change the ways of her world forever.
Doesn't that sound amazing!!! I can't even describe how excited I am for this. I feel like it's just completely fresh and that when I read it I'll be exploring a story I have never read before. I feel like sometimes in YA books are just spins on the same old story, but this one is new enough that I don't really have anything to compare it to!
The only thing I am upset about here is that the book doesn't release until February 20, 2018! That feels like forever from now! Is anyone else as excited as me?