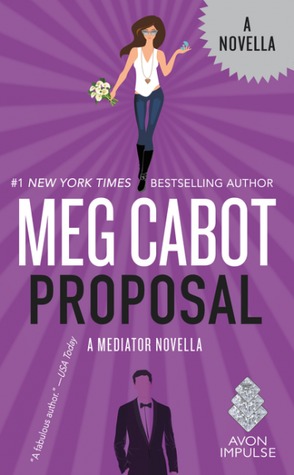 Title: Proposal
Author: Meg Cabot
Publication Date: January 18, 2016
Publisher: Avon Impulse
Source: Purchased
From Goodreads:
The last place Suze Simon expects to find herself during Valentine's Day is a cemetery. But that's what happens when you're a mediator – cursed with the "gift" of communicating with the dead.

That's how Suze has ended up at the graves of a pair of NCDPs – Non-Compliant Deceased Persons – whose drama didn't end with death. It's Suze's job to make sure they move on—for good.

But the NCDPs aren't the only ones with problems. The reason Suze is spending her Valentine's Day with the undead instead of her boyfriend, Jesse, is because he's having so much trouble adjusting to life after death . . . not surprising, considering the fact that he used to be an NCDP himself, and now his girlfriend busts his former kind for a living, while he tries to cure his kind of what used to ail him.

Can Suze use her mediating skills to propose a mutual resolution, and bring all these young lovers together – including Jesse and herself – especially on the night Saint Valentine declared sacred to romance?

Or will she end up alone—and possibly undead—herself?
Ahead of the release of Remembrance (Mediator 7) Meg Cabot has release a novella to let us in on the moment Jesse proposes to Susannah. Revisiting the Mediator world after twelve years was kind of crazy. We get to follow an adult Susannah as she navigates college, mediating, and her love life. She lives in what she refers to as "Virgin Vault" on her community college campus and shares a suite with a group of interesting girls whom she tries to keep her secret from. After a particularly nasty Non-Conpliant Dead-Person she heads home to find none other than Jesse in her dorm room!
One thing that is made quite clear from their first interaction is that this is an adult book. There are no overly naughty scenes, but for someone who doesn't read adult books very often, there's definitely some discussions in there I am not used to seeing.
I loved seeing Susannah and Jesse still together. For so long Meg Cabot said she wouldn't write another Mediator series because she didn't want to put the two of them through any more torture. I was a little worried that in the new novel they wouldn't be together anymore, but I was so happy when the descriptions were announced.
In Proposal we get the same witty writing that we always get from Meg Cabot. Susannah's character hasn't changed a bit in the twelve years that we last saw her. Cabot was able to effortlessly slide back into character. It feels like we never left these characters and it was a perfect way to build the lead up to Remembrance.
---