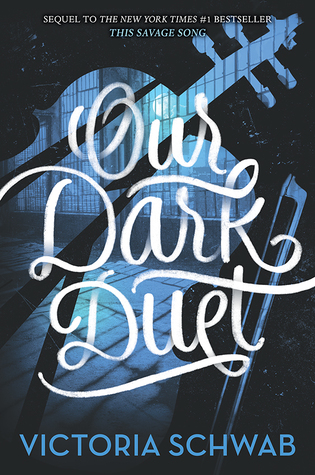 Amazon  |  Barnes and Noble  |  IndieBound
Greenwillow Books
June 13, 2017
Our Dark Duet was a stunning conclusion to the Monsters of Verity duology. We get to go back into the world of Kate Harker and August Flynn.
At the end of This Savage Song we see August go dark and it was fascinating to see how a boy who once longed to be human changed from this experience. I loved that we saw him fall and not be the boy we all fell in love with in that first book. Getting to see him struggle in a different way than before was perfect. As I watched him walk around pretending to be this new version of August and even convincing himself at times, I could still tell that he longed to be who he once was.
We got to see a bit of Kate Harker outside of V-City for a bit and that was very nice. My only complaint is that we didn't get to see her new friends again and we don't know what happened to them. I feel like we spent some time getting invested in them only to have them never show up again. Yes, her time in her new city introduced us to this new big bad monster, but I still would have loved for those friends to pop up again or for her to connect with them somehow.
I loved so many aspects of this book from August's character changes and growth to the way the battle came about. I love that there was this big bad monster that could turn people into raging nightmares. The new monster was a great addition to a story where monsters are already prevalent. He shows the chaos that already exists within all humans and even though he brought it out in the extreme it still showed that human beings exist with a level of chaos in them already.
One thing that was totally new to me and I like that Victoria Schwab introduced me a non-binary person. I have never ever read a book with someone who goes by the "They" pronoun before. At first, I will admit I was so confused! It took a while for me to get used to the fact that she wasn't talking about multiple people. I love how Schwab explained Soro not only to her readers but to August and I love how August was like okay cool! And never questioned Soro about it. I can learn a few lessons from August!
My only complaint, and it's not really a complaint (but kind of it is), but there are two major deaths in this book…and if you've read it you know what I am talking about. I felt like both of them were kind of given the Severus Snape treatment in that they could have been far grander because their characters deserved more. That being said, I feel okay with them because in war people do not always die in big grandiose ways. Both of these people died protecting those they loved or died doing something that would turn the tide in the war.
War is a terrible thing and I felt like this story really brought displayed that. I also feel like the conflict in this story could be applied to so many things today and that is so important! In America, we may not be living in an active war zone, but sometimes it feels like it and I like that this story, this fight, can represent so many things.