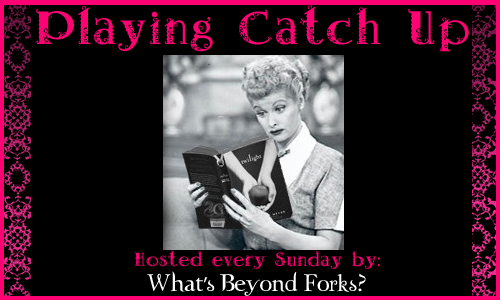 I am taking part in a new meme hosted by What's Beyond Forks? where we take a book that's been on our TBR list and we review it!
---
Title: Better Off Friends
Author: Elizabeth Eulberg
Publisher: Point
Publication date: February 25, 2014
Source: Purchased
From Goodreads
For Macallan and Levi, it was friends at first sight. Everyone says guys and girls can't be just friends, but these two are. They hang out after school, share tons of inside jokes, their families are super close, and Levi even starts dating one of Macallan's friends. They are platonic and happy that way.

Eventually they realize they're best friends — which wouldn't be so bad if they didn't keep getting in each other's way. Guys won't ask Macallan out because they think she's with Levi, and Levi spends too much time joking around with Macallan, and maybe not enough time with his date. They can't help but wonder . . . are they more than friends or are they better off without making it even more complicated?
I have been on an unusual contemporary kick recently and so Better Off Friends seemed like a good book to read. I actually saw it on Twitter and went faith that it would be a good read. Unfortunately, I was mistaken.
I really wanted to love this book. Like I REALLY wanted to enjoy it. This book is about two friends who met in middle school and are instant best friends. I had no idea when I started the book that this was going to start off in middle school with preteens. Honestly I did not need to know that much backstory. A simple flash about the moment they met would have been enough or even just a comment thrown into their conversation.
Such a huge chunk of this book was needless and it almost turned me off completely. I went onto Goodreads to see if they ever got to high school and when I discovered they did I decided to keep going. This book has its really great parts, mostly the banter between Macallan and Levi and that was something that held me on through most of the book and I thought that the instant messaging/texts between the two were a good shining moment.
The language and personalities of these characters does not change throughout the book and that was such a huge issue for me. I would expect growth from a book that spans so many years, but there was none. The character's issues were immature and not what I've come to expect from the YA books that have become so popular. Young adult novels get more sophisticated every year and in order to keep up they all need to be written on a high level and this book was just not up to standard. I wouldn't recommend this book to anyone unless you have some time to waste.