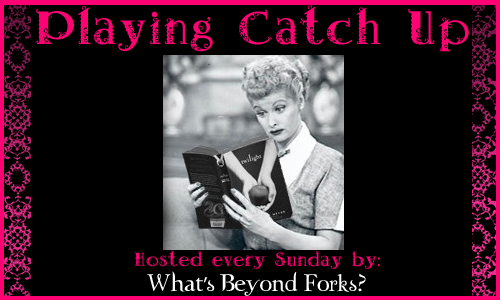 I am taking part in a new meme hosted by What's Beyond Forks? where we take a book that's been on our TBR list and we review it!
I had heard about this book leading up to its release through other blogger friends and I totally meant to get it, but I just never had a chance to. A few months after this was released I got so overwhelmed with school and I just stopped reading for a long time. I went to the SCBWI MidSouth Conference in Sept. and had a face-to-face with Holly Root who recommended that I read this book based on the kind of book that I was writing.
I immediately bought it once I got home from the conference and I read about 65 pages and…didn't read anymore. I was still at a point where reading was difficult for me because I was just so busy, but then at the very end of January I got a new job that actually affords me a life outside of work so I put it back on my list.
So here is the long overdue review for Defiance by C.J. Redwine.
---
From Goodreads
Author: C.J. Redwine
Publisher: Balzer + Bray
Publication Date: August 28, 2012
Source: Purchased
Defiance by C. J. Redwine is rich postapocalyptic YA fantasy perfect for fans of Graceling and Tamora Pierce.

While the other girls in the walled city-state of Baalboden learn to sew and dance, Rachel Adams learns to track and hunt. While they bend like reeds to the will of their male Protectors, she uses hers for sparring practice.

When Rachel's father fails to return from a courier mission and is declared dead, the city's brutal Commander assigns Rachel a new Protector: her father's apprentice, Logan—the boy she declared her love to and who turned her down two years before. Left with nothing but fierce belief in her father's survival, Rachel decides to escape and find him herself.

As Rachel and Logan battle their way through the Wasteland, stalked by a monster that can't be killed and an army of assassins out for blood, they discover romance, heartbreak, and a truth that will incite a war decades in the making.
This book was a ride! It's extremely well-paced, quick without leaving out any important details. I am usually really averse to having two characters followed in narrations, but lately I have had so much success with these type of books and this one was in that group. Switching between Logan and Rachel worked really well for this story.
We got to see the developing relationship between the two from both of their perspectives and it was a real treat! Redwine did such a fantastic job with Logan's inner thoughts. He's a guy and there is a whole internal conversation he has about Rachel's breasts in a dress and it's hilarious! She did not shy away from that and I am so happy because it only made him even more realistic as a character.
The way that Rachel handles grief was perfect! I love when we get to see characters who aren't strong all the time, that's not realistic and gives people who read it a very difficult bar to follow.
There were several elements that helped turn this from a traditional post-apocalyptic into a fantasy; the Cursed One, Baalboden, and the Tree People. The Cursed One is a monstrous creature who came out of the ground when humans dug too deep. He is described as a wingless dragon in the book but for some reason in my head he still has wings. I have no idea why that happened, but his description is very clear, but my brain is crazy I guess. Baalboden is the town that they live in and honestly doesn't feel like anything in our world right now which made it perfect. The people live under the ruthless Commander, who seems to be the only person the Cursed One is afraid of. We only very very briefly get to see the Tree People and I wish we would have actually gotten to see one of their villages. I know that there are two more books, so maybe we will see them then?
Overall this book was great, it was action packed, filled with romance in the face of death and danger, and a monster that destroyed humanity as it was known. I can't wait to order the other two books and get to read them!